COVID-19
The UNM Center for Social Policy is engaged in multiple projects exploring the short and long-term implications of COVID-19 with a particular focus on the racial and ethnic inequalities associated with this pandemic and public health crisis. We will post research associated with this work as it develops.
New Mexico Statewide Parent Vaccination Messaging Survey and Strategies for Vaccinating Children - NEWA recent statewide survey asked New Mexican parents their thoughts about vaccinating their children against COVID-19. In particular, the survey focused on those parents with unvaccinated children in their home. Our research and data analysis provides key insights and reasons why some parents remain hesitant to have their children vaccinated against COVID-19, as well as strategies to help overcome these issues. Click the title to read the full report. 

American COVID-19 Vaccine Poll

NM COVID-19 Vaccination Research & Messaging Survey: Insights Specific to Young Adults (18-29)
Using the data from the statewide vaccination and messaging survey, our team analyzed the findings to help provide insights specific to young-adult New Mexicans. This short, infographic style report provides key takeaway points regarding vaccination status as well as strategies for targeted outreach to help young-adult New Mexicans get vaccinated against COVID-19. Click the title to read the full report.


New Mexico Statewide Vaccination Messaging Survey Identifies Strategies to Help Achieve Full Vaccination Across the State
The UNM Center for Social Policy along with several national partners worked to survey New Mexican attitudes about COVID-19 vaccines. The survey comes as New Mexico approaches the 60% threshold of fully vaccinated adults, a critical step in the fight against COVID-19. However, research shows that some New Mexicans still remain hesitant to get vaccinated. This report provides data to create evidenced-based strategies to improve outreach to those New Mexicans still hesitant to become vaccinated or who have faced challenges with the process. The report also research with a focus on what the state can do to continue to set the pace for vaccination coverage nationally and remain on track for full re-opening. Click the title to read the full report.


American Rescue Plan - Resources for Children and Families
The COVID-19 pandemic has had wide-ranging devastating impacts on families and communities across the nation. It also further exposed longstanding vulnerabilities and inequities. The American Rescue Plan Act provides federal relief to help families and communities recover. These funds also provide additional support for food and rental assistance, unemployment and healthcare benefits to reduce health, education and economic well-being disparities impacting children and families of color. Click here for more info. 
The COVID-19 Vaccine in New Mexico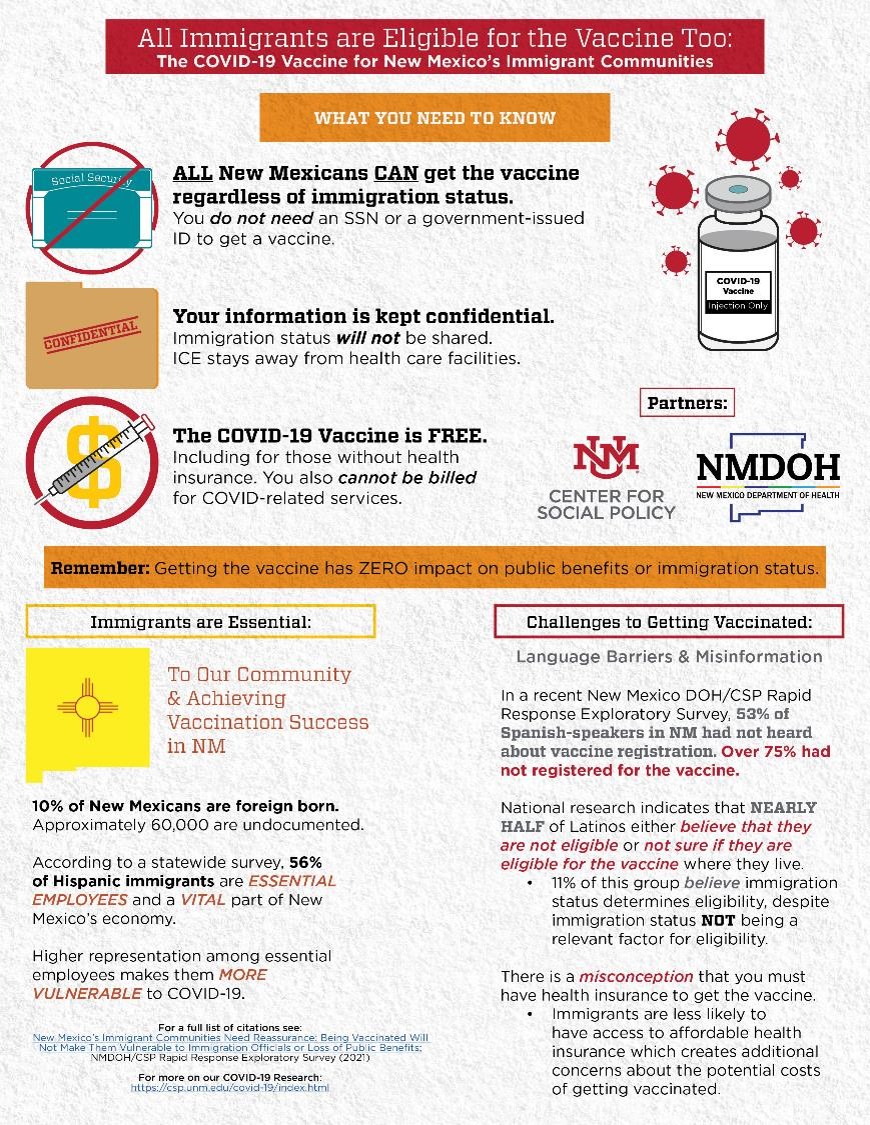 All Immigrants are Eligible for the Vaccine Too: The COVID-19 Vaccine for New Mexico's Immigrant Communities (Infographic) - NEW
Available in both English and Spanish, this infographic highlights findings from our recent brief and provides key information to help ensure New Mexico's immigrant communities get vaccinated. Click the title to view the full infographic.
Para la version español, haz click aqui. 

COVID-19 Vaccine Equity: Implications for Unhoused and Sex Worker Populations
While New Mexico continues to lead the nation in COVID-19 vaccination efforts, there are still barriers facing some of New Mexico's most vulnerable populations. New research has shown that the unhoused and sex worker populations are more vulnerable to contracting COVID-19 or becoming seriously ill with it. This makes vaccination efforts for these groups even more critical. However, these efforts are not without their own unique set of challenges. Click the title to learn more about what can be done to ensure an equitable vaccine process for all New Mexicans. 


New Mexico's Immigrant Communities Need Reassurance: Being Vaccinated Will Not Make Them Vulnerable to Immigration Officials or Loss of Public Benefits 
Currently, New Mexico is a national leader in the COVID-19 vaccination efforts. However, the vaccination roll-out in NM has not been without challenges. For example, at the time of this brief publication, less than half of all New Mexicans have signed up for the vaccine using the state's vaccine portal. There are also significant and unique challenges facing New Mexico's immigrant population including perceptions that their immigration status may draw unwanted attention from immigration officials and jeopardize public benefits. Click the title to read more about the unique challenges and what can be done to address these issues. 


American Individualism and Mask Wearing - Brookings Institution
While masks have been showed to slow the spread of coronavirus, a significant portion of the US population is resistant to wearing masks. Previous research by CSP Executive Director, Gabe Sanchez, PhD., and CSP colleague, Edward D. Vargas, PhD. (ASU), has identified important differences in mask usage based on race and partisanship, those findings do not explain the while so many Americans still refuse to wear a mask. Read their latest findings and how American individualism may explain this trend, here. 


States Re-Opening
As states grapple with how to re-open amidst public health concerns and economic fallout, many states are now mandating face coverings while in public. However, as new research points out, there is a trend amongst those willing to comply with mask mandates. Read more from the Washington Post Analysis feature from CSP Executive Director Gabe Sanchez and long-time CSP colleague Edward D. Vargas (ASU), here.  
COVID-19 Implications on Elections
New Mexico Vote-By-Mail: Matters of the Primary and State Election Laws 
The report examines the 2020 New Mexico Primary Election, the process of voting by mail in the state, and policy solutions to ensure that voters are provided equitable access to the ballot box in future elections. Click the title to read the full report. 

New Mexico Vote-By-Mail: Matters of the Primary and State Election Laws - Press Release
Debunking the Myth of Voter Fraud in Mail Ballots - Report
Debunking the Myth of Voter Fraud in Mail Ballots - Press Release