Gabe Sanchez
Executive Director, Center for Social Policy
Professor of Political Science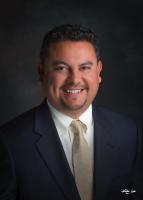 Biography:
Gabriel R. Sanchez, PhD. is a Professor of Political Science at the University of New Mexico, the Director of the UNM Center for Social Policy, Director of Graduate Studies for the Political Science Department, and a founding member of the UNM Native American Budget and Policy Institute. Sanchez is also the Director of Research for BSP Research. A leading expert on Latino and New Mexico politics, he regularly provides political commentary to several state, national, and international media outlets including the New York Times, CNN, Los Angeles Times, and the Economist. Professor Sanchez has also directed many research projects and polls across the southwest and has presented his research for the Congressional Hispanic Caucus Institute, the League of United Latin American Citizens, the American Federation of Labor and Congress of Industrial Organizations, the Democratic Congressional Campaign Committee, and often serves as an expert policy advisor to the New Mexico State Legislature. 
Sanchez holds a Ph.D in Political Science from the University of Arizona, and his research has explored the relationship between racial and ethnic identity and political engagement, Latino health policy, and minority legislative behavior. Dr. Sanchez has published more than 100 scholarly research articles, chapters, policy briefs and books that examine minority public opinion, electoral behavior and racial and ethnic politics. Sanchez has published research on the obstacles to civic engagement for both the Hispanic and Native American communities and has co-authored expert witness reports for court cases dealing with the voting rights of both communities in several states. A native New Mexican, Dr. Sanchez is a graduate of St. Pius X High School in Albuquerque.
Dr. Sanchez's full curriculum vitae can be viewed here.